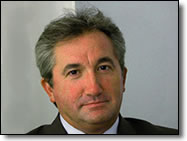 Federico Andreani (50) has gained vast expertise in Financial and Controlling Management.
He carries a unique mix of both hands-on management and consulting experiences.
Previously he was General Manager of Consorzio Agrario di Macerata and Vice-Director General and Director Financial Management (CFO) of Consorzio Agrario di Bologna e Modena (EUR 220 M turnover).
As a management consultant he worked both on medium and large-sized companies. Federico's experience is based on over 20 years of financial management and problem-solving. He has lead financial departments through restructuring exercises and he advised companies in severe financial distress.
He performed financial due diligences, designed new management control systems, implemented change, aligned processes and trained senior management and financial staff to embed improvements reached.
Federico earned an Executive MBA from Profingest Management School in Bologna and graduated in Economics and Commerce at the Faculty of Economics and Commerce of La Sapienza University in Rome. Federico Andreani has been a speaker on Basel II and (Corporate) Sustainable Reporting. He speaks Italian and English.